Thank you for your interest in employment with the Ashiyan Group Job Circular in Bangladesh. We are sure that you will find the better information provided below. Ashiyan Group has circulated job circulars in recent times. This is your chance to share your story and connect with the job field in our country. As a hoping for a job, you'll represent your skill and qualification. Please note that resumes/cv send only not direct interviews or other communication.
Ashiyan Group help's us to social economy and condition. If you want to apply for this job, you should submit your application within a short time. Ashiyan Group's original job circular was converted to an image file that has been given below. Ashiyan Group job circular 2022 related all information has been found my website that is jobs.lekhaporabd.com
Ashiyan Group Job Circular 2022
Ashiyan Medical College Hospital 2022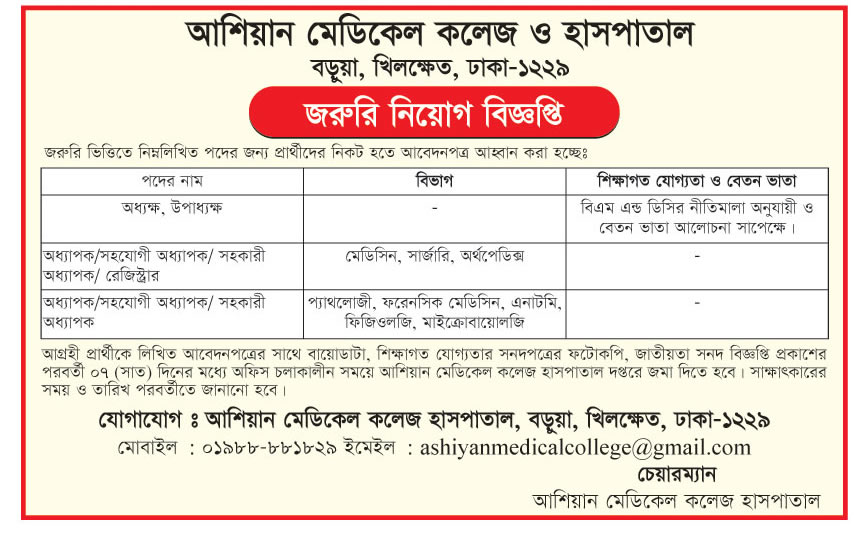 Application Deadline: 26 May 2022
Send your CV to [email protected]
Check Ashiyan Medical College Hospital All Recent job Circular Posted On BD jobs
Click Here To View Job Circular & Apply Online
ASHIYAN is a popular and trusted brand in the country's real estate and housing sector. Ashiyan is better known for its quality and commitment. It has significantly contributed to meeting the ever-rising demand for housing in the national metropolis and its suburb. Ashiyan believes in planned urbanisation without damaging the natural environment. Despite the growing scarcity of suitable land and its rising price, Ashiyan always strives to narrow down the gap between the cost of housing plot and the capacity of the clients. Ashiyan City, one of the largest housing projects in the capital, ensures all civic amenities of the highest standard. Its location, opposite to Hazrat Shahjalal (RA) International Airport, has been the greatest advantage of the project. Many of the renowned persons in various fields have purchased plots in Ashiyan City that has secured final approval of the Rajdhani Unnayan Kartipakkha (Rajuk). Ashiyan Shitolchhaya, the largest housing project in the country, is being developed at Pubrachal in Rupganj of Narayanganj district.
Besides housing, Ashiyan Group has also invested in some other key areas such as healthcare. Ashiyan Hospital, equipped with all modern facilities, has already been launched at an area adjacent to Ashiyan City. The government has approved a medical college to be tagged with the hospital. Under the Ashiyan Education City Project, plans are underway to establish school, college and university, all adjacent to Ashiyan City.