Thank you for your interest in employment with Police Staff College Bangladesh PSC Job Circular 2022. We are sure that you will find the better information provided below. Police Staff College Bangladesh PSC has circulated job circulars in recent times. This is your chance to share your story and connect with govt. job field in our country. As a hoping for a job, you'll represent your skill and qualification. It's an attractive job circular.
Police Staff College Bangladesh (PSC) is the apex training and research institute of the Bangladesh Police. It is responsible for imparting quality training to Bangladesh Police, offering professional academic degrees and conducting cutting edge research on criminological issues for the improvement and operational performance of police and the community to make our place safe and secured.
PSC has come to light as a statutory organization in 2002 under the Police Staff College Act, 2002, through an auspicious inaugural by the Honourable Prime Minister Sheikh Hasina on November 30, 2000. It is the first of its kind in the South Asia region. It has a beautiful landscape of approximately 19.5 acres of land located at Mirpur-14 – the heart of Dhaka, the capital city of Bangladesh.
Police Staff College Bangladesh PSC also helps us with social economy and conditions. If you want to apply for this job, you should submit your application within a short time. Police Staff College Bangladesh PSC job circular 2022 related all information has been found on my website which is jobs.lekhaporabd.com. Police Staff College Bangladesh PSC's original job circular was converted to an image file that has been given below.
Police Staff College Bangladesh PSC job circular 2022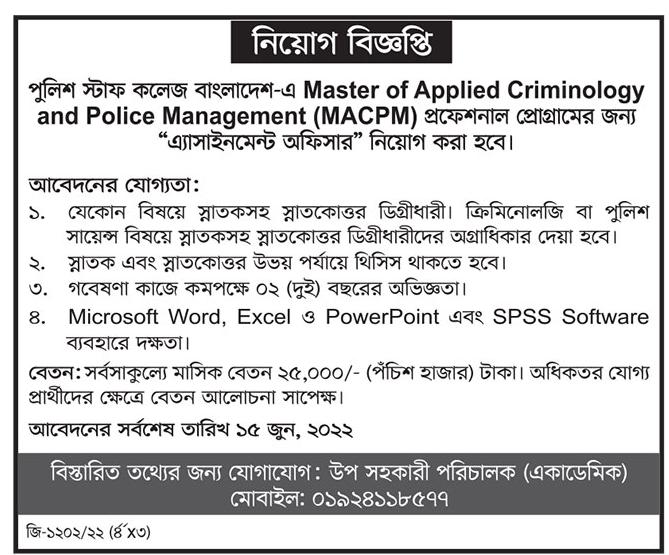 Source: BDPratidin, 01 June 2022
Application Deadline: 15 June 2022
PSC's core training program is primarily internal (on-campus), but it has a strategic vision to offer distance education programs as well. The duration of the core programs differs but is generally ranging from 2-3 weeks. PSC conducts courses in collaboration with national and international partners too.
PSC's Academic and Research Wing are engaged in pursuing academic endeavours and conducting cutting edge research across a range of eco-social, criminological, security, policing and counter-terrorism issues. Further, PSC's Training Wing offers high quality professional training to enhance sound managerial capability, operational commanding skill and sharp farsightedness with a commitment to develop sound professionalism of the police personnel.
PSC's journey since its inception has gradually been very worthy and promising. It is now advancing its infrastructure facilities such as new eco-friendly academic hub and vertical extension of dormitory building etc. PSC is moving forward and endeavouring for excellence with a vision to establish it as the regional and global 'think tank'.