The Ministry of Defence job circular 2023 has been published by the authority. It's a huge and attractive job. The Ministry of Defence will be recruiting a huge number of people. To get the Ministry of Defence job circular 2023 related to all information, you can visit our website Which is lekhapora bd Jobs. Anyone can take this opportunity.
The Ministry of defence consists of three uniformed military services of Bangladesh – Bangladesh Army, Bangladesh Navy, and Bangladesh Air Force. At present, members of the Bangladesh Armed Forces are deployed in eight (08) countries around the world as peacekeepers under UNDPKO. Bangladesh is one of the largest troops contributing countries in the world at this moment.
Armed Forces Division is an extension of the Prime Minister's office for promulgation of policies, issuing Government approvals for Armed Forces deployment, and coordination between Services Headquarters. It is a principal government organ for the coordination of all operational matters as well as important administrative matters relating to the Armed Forces. It has the authority, direction, and control over Services on the operational and administrative matters under the direct supervision and guidance of the Prime Minister.
If you want this job in the ministry of defence, you should submit your application within the required date. Ministry of Defence job circular 2023 related all information has been found on my website is jobs.lekhaporabd.net. The Ministry of Defence has released two job circulars that convert to the image file so that all people can easily read this job circular. Ministry of Defence job circular 2023 has been given below.
| | |
| --- | --- |
| Job Circular Title | Ministry of Defence Job Circular 2023 |
| Institute Name | Department of Military Lands and Cantonments |
| Job Category | Govt Job Circular 2023 |
| Number of Vacant posts | 64+27 |
| Job Location | Dhaka |
| Job Type | Full-Time |
| Educational Requirements | Fazil, Honours |
| Experience | Not necessary |
| Salary | 12,500-30,230/- & 16,000-38,640/- |
| Application Deadline | 31 July, 20 August 2023 |
| Application Type | Online |
| Application Form | job.shmrmi.gov.bd |
Ministry of Defence Job Circular 2023
Department of Military Lands & Cantonments dmlc Job Circular 2023
Source: Janakantha, 12 July 2023
Application Deadline: 20 August 2023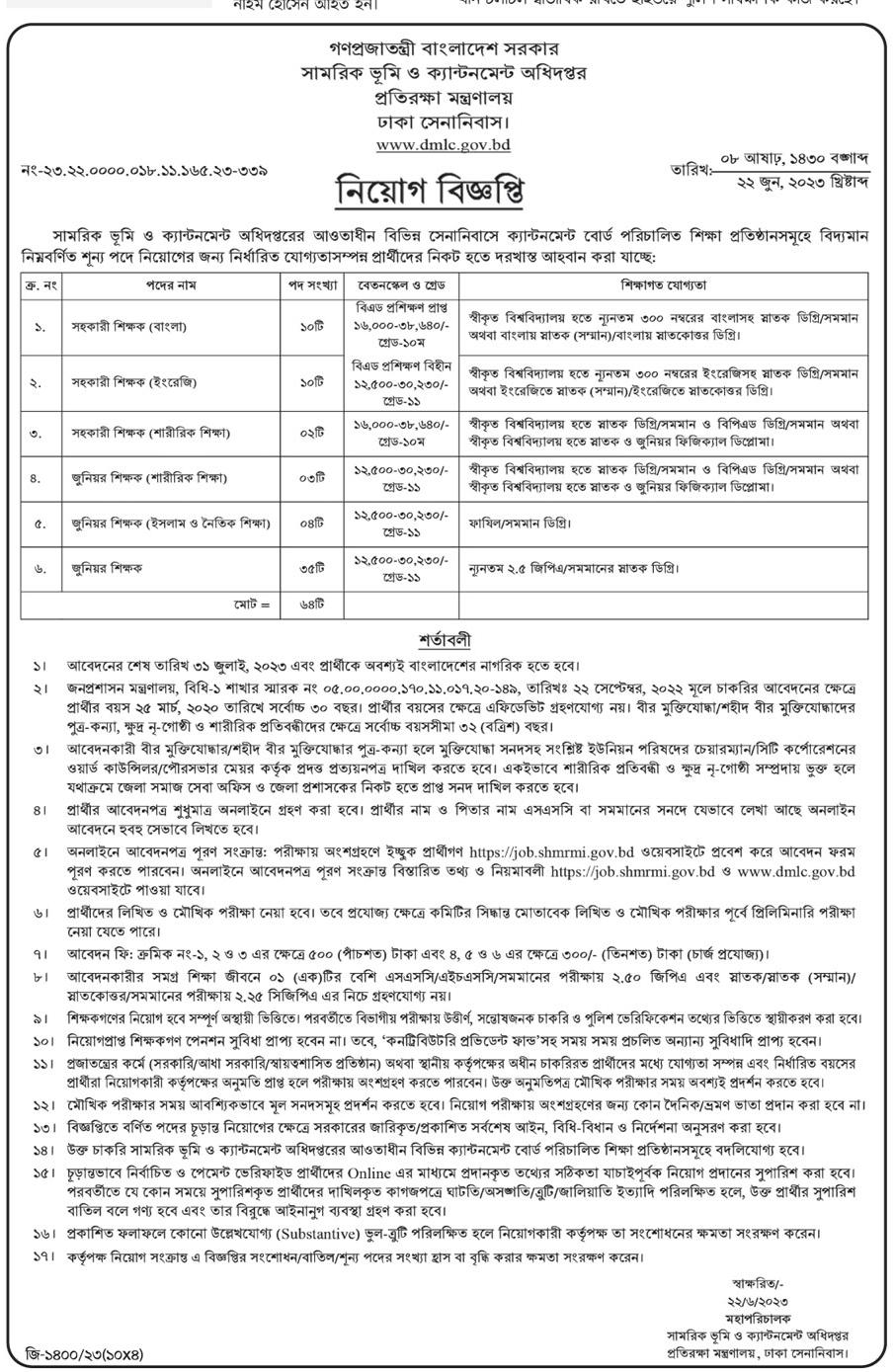 Application Deadline: 31 July 2023
Apply Online: dmlc.teletalk.com.bd
Bangladesh Ordnance Factories BOF Job Circular 2023
Apply Online: bof.teletalk.com.bd
The Bangladesh Space Research and Remote Sensing Organization SPARRSO Job Circular 2023
Apply Online: sparrso.teletalk.com.bd
Controller General of Defence Finance Job Circular 2023
 Apply Online:  http://www.cgdf.teletalk.com.bd
Website: http://www.cgdf.gov.bd
Ministry of Defence Constabulary MODC Job Circular 2023
Apply Online: http://modc.teletalk.com.bd
Inter-Services Public relations (ISPR) Bangladesh Job circular 2023
Apply Online: http://ispr.teletalk.com.bd
Official Website Address: www.ispr.gov.bd
Military Institute of Science & Technology (MIST) Job Circular 2023
Visit Website: mist.ac.bd
Sylhet (Jalalabad) Cantonment Board Job Circular 2023
Visit Website: www.jcbs.gov.bd
Bangladesh Armed Services Board basb Job Circular 2023
Application Deadline: basb.gov.bd
Military Engineering Services MES Job Circular 2023
Armed Forces Medical College Job Circular 2023
Visit Website: www.afmc.edu.bd
CAO Job Circular 2023
Apply Online: cao.teletalk.com.bd
Apply Online: mod.teletalk.com.bd