Dhaka Bank Limited (DBL) Job Circular 2022: Dhaka Bank has truly cherished and brought into focus the heritage and history of Dhaka and Bangladesh from the Mughal outpost to the modern metropolis. Most of its presentations, publications, brand initiatives, delivery channels, calendars, and financial manifestations bear Bank's commitment to this attachment. The Bank is widely recognized today for its exceptional service, simplicity, proximity, and cutting-edge way of delivery.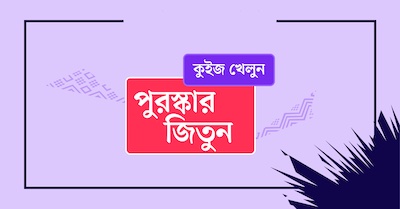 The Circular of Dhaka Bank Limited Job Circular 2022 is available at www.dhakabankltd.com. Dhaka Bank Latest Job Circular 2022 was announced at Lekhapora BD jobs. Dhaka Bank Limited Management Trainee Officer (MTO), Trainee Officer (TO) Job Circular has been given on their Official website – www.dhakabankltd.com. Dhaka Bank Limited Job Circular in Bangladesh has found all information at our website. Check the Dhaka Bank Limited Job Circular details below:
| | |
| --- | --- |
| Job Circular Title | Dhaka Bank Limited Job Circular 2022 |
| Job Circular Title in Short Form | DBL Job Circular 2022 |
| Job Category | Bank Jobs |
| Number of Vacant posts | Not specific |
| Job Location | Dhaka |
| Job Type | Full-Time |
| Educational Requirements | Minimum Bachelor Degree, preferably in Accounting, Finance |
| Experience | See the Circular below |
| Salary | See the Circular below |
| Application Deadline | 20 November 2022 |
| Application Type | Online |
| Application Form | Click here |
Dhaka Bank Limited (DBL) Job Circular 2022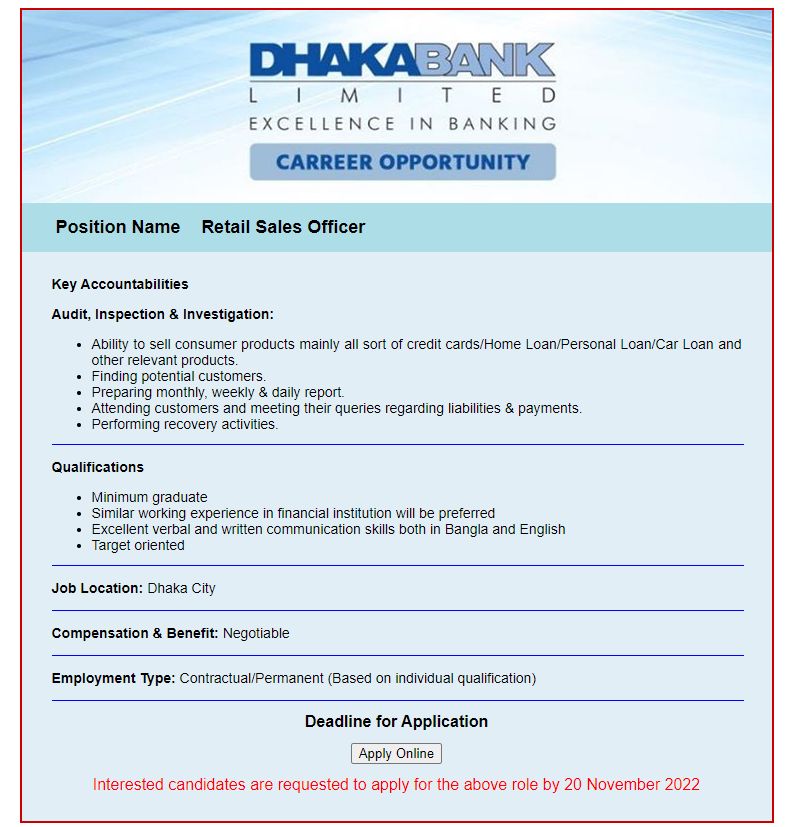 Application Deadline: 20 November 2022
Check Dhaka Bank Limited All Recent job Circular – বিজ্ঞপ্তি দেখতে স্ক্রল করুন।
Click Here To View Full Job Circular & Apply Online – (সম্পূর্ণ বিজ্ঞপ্তি দেখুন ও আবেদন করুন এখানে)
Operational craftsmanship marking its position as the potential market player in all core areas of banking in the country. It got listed in DSE and CSE in 2000. Alongside a lasting bond with the corporate world, Dhaka Bank has got hold of a countrywide reach through a larger network of Branches, ATMs, ADMs, SME channels and SMS banking. As of December 2022, Dhaka Bank has made its presence at 100 Branches including 2 Islamic Banking Branches, 3 SME Service Centres, 56 ATMs, 20 ADMs, 1 Business Kiosk and 2 Offshore Banking Units across the country. Catering to the needs of Capital Market, the Bank has established a subsidiary company named Dhaka Bank Securities Limited having 6 countrywide Branches.
They expect to rise from the heart of Bangladesh as a stronger force in the market They serve. They are committed to our goals to create superior shareholder value in our quest for excellence as They grow and mature into a banking veteran.Training Need Analysis (TNA) is identifying performance gaps which is called Skilled Gap Analysis (SGA). Thereafter, it is justified through its Return on Investment (ROI). ROI of training could only be calculated and rationalized when They value the training benefits. Training benefits are about performance improvement and its value is measured by Key Performance Indicators (KPI). Any promotion and reward cannot be considered without appreciating performance.
DBL has a structured Performance Appraisal system where the training need is meticulously identified to expedite individual employee development following an uptrend approach for career and succession planning. There are different categories of employees in Dhaka Bank Limited in terms of age, past job history, educational background etc. So, a single training policy is not applicable here. For that They arrange training from very elementary level to advanced level based on the needs of the employee.As there are different types of training development needs it is important that the HRD identifies the staff's thorough training need analysis. DBL HR Division does the individual Training Needs Assessment (TNA) and arranges the need based training both in country and overseas for the employee. Organization benefits by training a wide range of population because every employee can provide ideas and contribute to the implementation of forethought.