Thank you for your interest in employment with the Chittagong Stock Exchange Limited CSE Job Circular 2022. The Chittagong Stock Exchange (CSE) began its journey on 10th October 1995 from Chittagong City through the cry-out trading system with the promise to create a state-of-the-art bourse in the country. We are sure that you will find the better job information provided below. Chittagong Stock Exchange Limited CSE has circulated job circulars in recent times. This is your chance to share your story and connect with the job field in our country. As a hoping for a job, you'll represent your skill and qualification. Please note that resumes/cv send only not direct interviews or other communication.
Advertisements
Founder members of the proposed Chittagong Stock Exchange approached the Bangladesh Government in January 1995 and obtained the permission of the Securities and Exchange Commission on February 12, 1995, for establishing the country's second stock exchange. The Exchange has been comprised of twelve Board members presided by Mr. Amir Khosru Mahmud Chowdhury (MP) and run by an independent secretariat from the very first day of its inception.CSE was formally opened by then Hon'ble Prime Minister of Bangladesh on November 4, 1995.
Job Circular Details:
Number of vacancies: 01
Closing Date: 18 May 2022
Applications should be submitted by cse.com.bd.
Chittagong Stock Exchange Limited CSE Job Circular 2022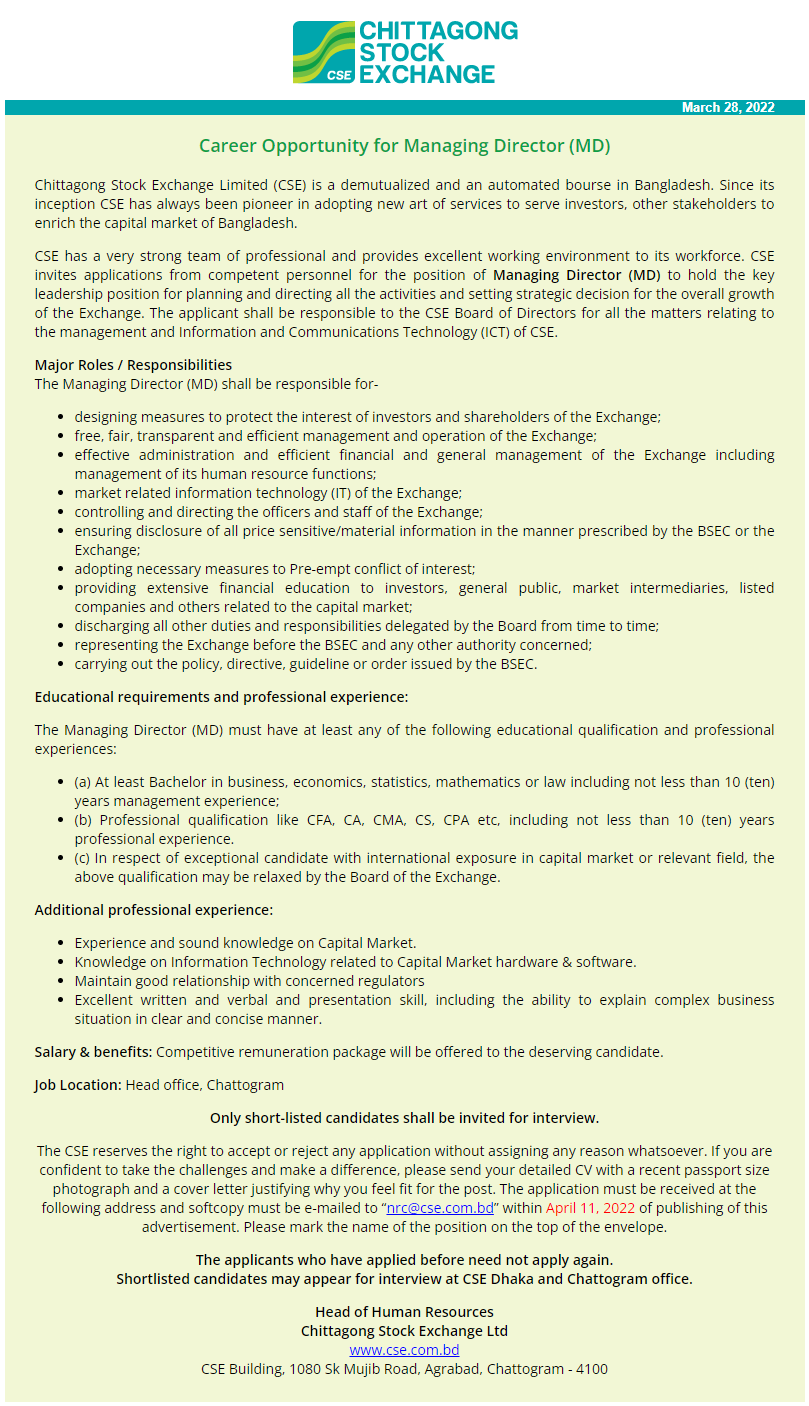 Application Deadline: 11 April 2022 
Vision:
Aspire a global standard transaction place of securities and financial products.
Mission:
Practice a set of core values to build competency in compliance, diversification, and technology so that an accessible platform, market confidence, and wealth maximization scope can be ensured.
Core values:
Value for people
Transparency
Excellence
Harmony
Commitment
Integrity