Pharmasia Limited Job Circular 2022 has been published in daily newspaper and our website jobs.LekhaporaBD.com. If you are looking for a job in the pharmaceutical sector then you can check this job circular from our website. Pharmasia Ltd. is one of the fastest-growing pharmaceutical companies in Bangladesh, situated in Dhaka. Pharmasia manufactures and markets a wide range of therapeutic drugs of outstanding product quality from a world-class manufacturing facility. Pharmasia is a highly professional and performance-driven organization that aims to provide the highest quality healthcare products for doctors and patients in Bangladesh, whilst maintaining a high ethical standard in business operation.
Pharmasia is an integral part of Rangs Group of Companies, one of the most reputed and largest business conglomerates in the country. The Group is best known as a pioneer in the field of consumer electronics and has grown into a mature service-oriented organization since it was incorporated in Bangladesh in 1984. Today the group operates branches in various fields of business; comprising seventeen sister concerns.
Pharmasia strives to be a responsible producer and to keep pace with current Good Manufacturing Practices (cGMP). The company has a state-of-the-art three-layered manufacturing plant, one of the finest pharmaceutical manufacturing facilities in the country, engineered by well-renowned consultants, spread over 2.77 acres of a magnificent landscape. It is designed to conform to world standards of WHO cGMP, EU cGMP, TGA, and UK MHRA. The plant has the latest manufacturing facilities for Oral Solids, Dry powders, Oral Liquids, External liquids, Topical Creams & Ointments, etc. It also has separate and dedicated facilities for cephalosporin products. The Zone concept of Current Good Manufacturing Practice (cGMP) is meticulously implemented at the site. Qualification, Operation, and Documentation are implemented as per cGMP requirements. Approved Quality Systems, as well as Environment, Health & Safety (EHS) systems, have been implemented at the site.
To ensure consistent product quality, a rigorous system of production and testing routines is maintained. To this aim, Pharmasia Ltd. has retained some of the most reputed and experienced professionals from the local industry. The Pharmasia team is composed of a group of highly qualified, trained & skilled professionals and experts including pharmacists, chemists, microbiologists, engineers, doctors, etc, having decades of experience from reputed pharmaceutical companies. for more details, you can visit Pharmasia official website pharmasia.com.bd. Pharmasia Limited Job Circular 2022 has been given below:
Pharmasia Limited Job Circular 2022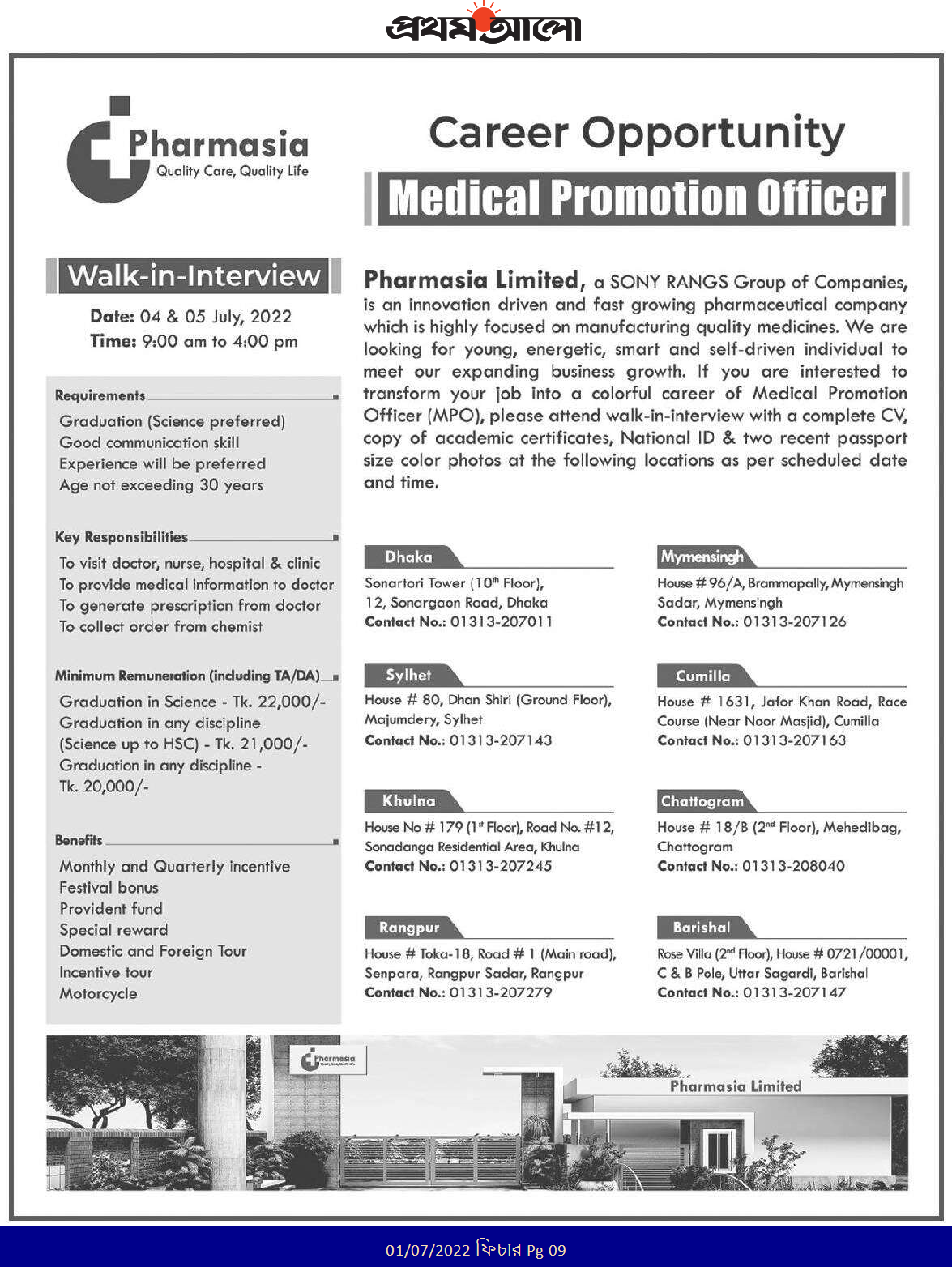 Source: Prothom Alo, 02 July 2022
Interview Date: From 04 July to 05 July 2022
Check The White Horse Pharmaceuticals All Recent job Circular – বিজ্ঞপ্তি দেখতে স্ক্রল করুন।
Click Here To View Full Job Circular & Apply Online – (সম্পূর্ণ বিজ্ঞপ্তি দেখুন ও আবেদন করুন এখানে)